Nirvel 5 Minute Hair Coloring Cream for Men - 1 fl oz
---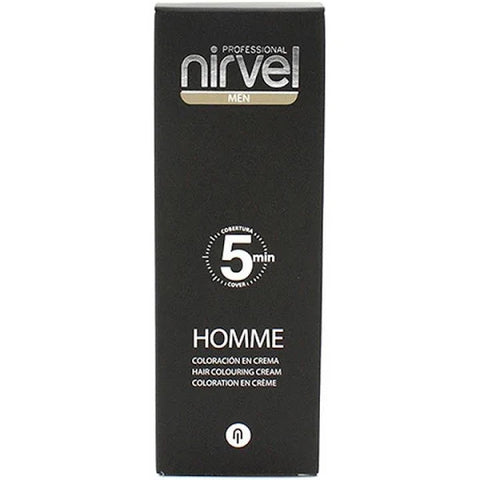 Men's Hair Colour Cover Grey Hair from Nirvel Professional ®
By leaving on for 5 minutes, you'll achieve a light and subtle colour.
By leaving on for 10 minutes, you'll achieve a more intense colour.
1. Pour the tube contents into the bottle of oxygenated water and shake.
2. Apply the colour by combing it through the hair.
3. Leave on for 5 or 10 minutes.
4. Rinse hair with plenty of water and dry.
*Do not leave on any longer than recommended.
Dark grey, light grey, dark brown and light brown.
Nourishes your hair.
Quick and easy.
Available in 4 shades:
G3: DARK GREY (ref 7154)
G7: LIGHT GREY (ref 7153)
CT6: DARK BROWN (ref 7156)
CT7: LIGHT BROWN (ref 7155)

Contents: The kit contains: 1) Hair colouring cream (30 ml / 1 fl oz) + Developer 20V (30 ml / 1 fl oz) + pair of gloves