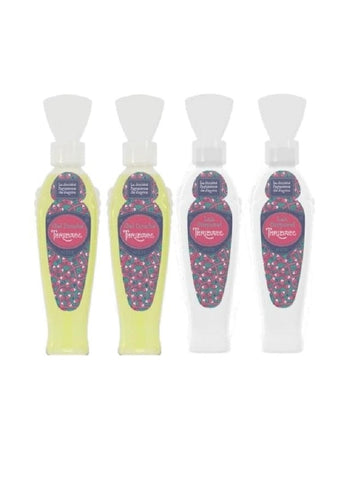 La Societe Parisienne de Savons' history consists of a shared passion for luxury cosmetics and the fascination of the art-deco period. The brand is the creation of the association of three pharmacists with different and complementary talents. Their products are constructed under these founding pharmacists, thus ensuring the high quality La Societe Parisienne de Savons is known for.


La Societe Parisienne de Savons Travel Size/Guest Shower Gel and Hand & Body Lotion - 4 pack (2 of each) - 50ml / 1.7oz each 
Each shower gel has been carefully crafted with cleansing and nourishing ingredients to provide a rich lather for a cleansing and soothing bathing experience. Combined with high-quality ingredients, the gels and rich lather gently cleanse and your skin. Each hand & body lotion contains a blend of natural moisturizing ingredients to be enjoyed after a bath or to hydrate your skin throughout the day.

Your Choice of:
Thridace - honey, rose, coumarin, white honey, vanilla
*****
Marjolis - bergamot, ylang-ylang, aldehyde, gardenia, tuberose, tonka bean, peach, lily, frangipani blossom, sandalwood, night beauty, jasmine, musk
*****
La Violette - violet leaves, violet, rose, jasmine, carnation of the poets, coumarin, iris
*****
La Reine - bergamot, rosewood, carnation, rose, jasmine, violet, iris, cedarwood, sandalwood, musk, amber
*****
L'Eau de Cologne - orange, verbena, petit grain, geranium, rosemary, clove, orange blossom, patchouli
*****
Mucha- enriched with cosmetic olive oil and quality extracts from Rosa Canina and Rosa Centifolia, which contain flavonoids, fruit acids and other beneficial substances. 
*****
Savonia - honeysuckle, plant accord, hyacinth, sweet peas, gardenia, jasmine, lily of the valley, white cedar, tuberose, musk

The Perfect Travel Size, Guest Size or Personal Sampler Size


*Imported from Paris, France
Related Products
---