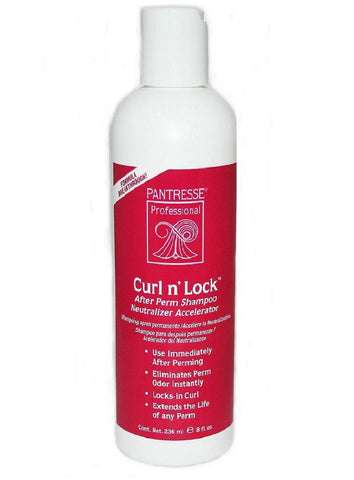 Pantresse Professional Curl n' Lock After-Perm Shampoo - 8oz
Hair Perm Smell is Not Swell!

Pantresse Curl n' Lock, Works for Perm Smell Block!
Perms change the structure of your hair through a chemical process. Those chemicals leave a strong smell in your hair that can sometimes last for several days, or even weeks.  Pantresse Shampoo works to lift the smell from your hair while locking in your curls.
Pantresse Professional Curl n' Lock After-Perm Shampoo

Locks in Curl and Eliminates Perm Odor
Performs as a Neutralizer Accelerator
Eliminates Perm Odor Instantly
Locks in Curl
Extends the Life of Your Perm
Pantresse Curl n' Lock Shampoo

Allows You to Shampoo Immediately After a Hair Perm.  It Acts as a Neutralizer Accelerator to Instantly Complete the Neutralizing Process that Normally Requires 24 to 48 Hours.  Pantresse Shampoo Locks In the Curl Pattern and Eliminates Your Hair's Perm Odor, Leaving Your Hair Smelling as Good as it Looks!
 8 oz Bottle
Directions for Pantresse Shampoo Use: 
 Use Immediately After Perming

Rinse out neutralizer

Do not dry hair

Apply Curl n' Lock and gently work through hair

Rinse thoroughly

Only one application is necessary.
Pantresse Shampoo Ingredients:  Water, Polyacrylamidomethylpropane Sulfonic Acid, Sodium Laureth Sulfate, Hydrogen Peroxide, Triethanolamine, Panthenol, Phytantriol, Polysorbate 20, Hydroxypropyltrimonium Hydrolyzed Collagen, DMDM Hydantoin, Fragrance.
Related Products
---